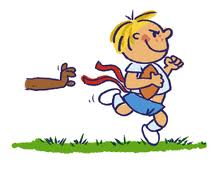 On Friday 4th November a team of Y5 boys took part in a tag rugby tournament organised by Westbourne School at Abbeydale Cricket and Rugby club.
I must admit it was with a little trepidation that I accepted Westbourne's invite, as we do not normally teach rugby in school. However some of the boys play in rugby teams out of school and we managed to get a team together combining the rugby boys with a few who had never picked up the odd shaped ball before! I googled " Tag Rugby Tactics " the night before and had a 20 minute session with the boys at lunchtime to run through the rules.
As usual they were extremely welcoming to all the children and provided each one with a drink,a sandwich and a snack. Jonathan Laurie,their pe coach, refereed all the matches.They also provided minibus transport to and from the ground.
Unfortunately Dobcroft had to pull out at the last minute meaning there were only Westbourne, St Marie's and ourselves playing.It was decided that we would play each other twice (4 matches each in total).
We played our first game against St Marie's and managed a 4-4 draw following some excellent attacking play, particularly by Sam and Francesco and some dogged defending by Seth .
St Maries then beat Westbourne in a tight match and the pressure was on.St Wilfrid's stepped up to the plate and showed great determination ,winning 5-2. Our next match against St Maries was again very close with gutsy performances on both sides.A great body swerve by Henry resulted in a try and  strong running by Joe , Conor and Ben throughout the match gave us 2 more to make it 3 all .In the last minute of the match Joseph got a try following good work by Alex who intercepted a pass and ran the length of the field before offloading to Joseph to score on the line.
Our last match was against Westbourne. The boys knew they only needed a draw to win the tournament.
They huddled together and told me they were going to treat it as a must win game. Another fine performance by all the team, (in particular Jamie who tagged everyone in sight) resulted in a 4 – 2 win.
I was very impressed with the conduct of the boys throughout the afternoon, and  was very proud when Sam stepped up to collect the trophy. All three sets of boys were a credit to their respective schools and a fun day was had by all.